When it comes to buying a home, making sure the roof over your head is sound is a very important – but often overlooked – consideration.
The integrity of your home, and the quality of life you have in it, relies on a roof that's going to keep out the elements. And because replacing or repairing your roof could be one of the biggest costs you face as a homeowner, it's necessary to give the roof of a new or potential home as much consideration as you would the kitchen, the subfloor and the walls.
(When you book a property inspection with us, if your building is over two-storeys high, we'll use a drone to get a really clear picture of what is going on up there – so you know we take this seriously!)
In New Zealand, the commonly used roofing materials we see are clay and concrete tiles, metal tiles, metal (corrugated) long-run roofing, shingles in wood, bitumen or slate, and membrane roofs. Roofing can be broken down into 'heavy gauge' such as clay or concrete tiles and 'light gauge' like steel roofing. Let's take a look at what that means.
Tile roofing
● Clay/concrete tiles
Given the different ages of New Zealand's housing stock, this is one of the most prevalent roofing materials we see. Commonly used in the 50s, 60s and 70s, the concrete tile (which came later than the clay tile) is heavy, durable and fire resistant. Little wonder it was used during our mid-century housing boom! However, it can also break if walked on, and if individual tiles need to be replaced, they can be hard to colour-match.
On this type of roof, we are looking for any sort of visible damage, or signs of leakage. Obvious signs of repair might be painting over a taped area, silicone or sealant use.
Your property inspector will take a close look at the ridges and barges for signs of breakage and wear of the tile, grout or mortar.
– The ridge is where the roof planes meet or intersect and where a ridge tile would be used to keep out the rain.
– The barge is at the edges where the outer tiles finish in a gutter.
Other things to look for on tiled roofs are tiles that have slipped, or moved out of place, creating gaps and opportunities for water ingress.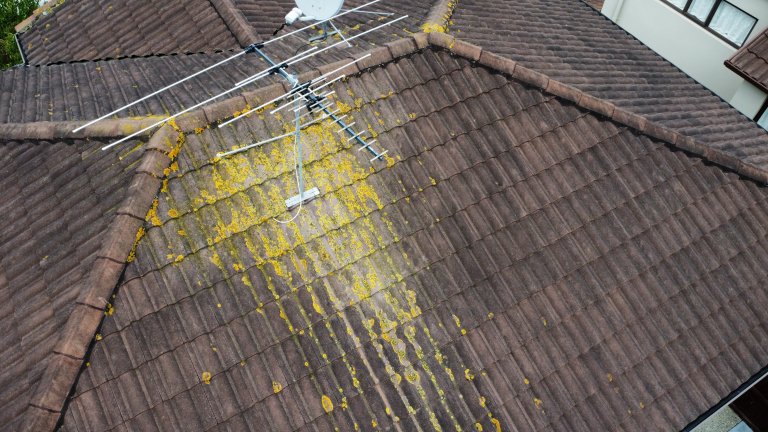 ● Metal tiles
Metal tiles are a more lightweight option and come in different profiles and patterns. Older style metal roof tiles may be steel coated with a bitumen overlay, known as 'Decramastic'. The protected steel means it should last well, however metal tiles are also likely to lose coating over time which can lead to rust and poor performance. Lighter gauge metal can also dent when walked on.
Other things to be aware of with older metal tiles is the 'chip' coating. Some types, usually pre-80s, may contain asbestos in the glue, which will add significant cost to removal and disposal.
Corrugated iron/ metal long-run roofing
A corrugated iron or 'long-run' roof is a common sight in New Zealand and may be atop a century-old villa or a modern new build. Depending on age, we're looking for signs of rust, rusted fixings, corrosion, flaking off, lifting and flapping.
Shingle roofing
The most commonly used shingle roofing in New Zealand is asphalt shingle, which is a base layer (usually wood or fibreglass) impregnated with asphalt. Over time, the tiles may shed their coating and water ingress could become a problem. Slate tiles are expensive but may offer greater longevity.
Membrane roofing
While membrane roofs are meant to create a watertight covering over a building, this is not always the case as demonstrated by the 'leaky building' crisis in NZ. Many membrane roofs were constructed on a flat surface, which meant little or no 'fall' for water to move off. Newer membrane roofs are more highly regulated – however issues with this type of roof can be expensive and difficult to remediate as the whole surface (not just a few tiles, or a sheet of metal) will need to be replaced.
Don't forget the underside!
Of course, every roof has an underside, and where accessible, we'll check inside the roof cavity for water leakage, condensation on the bottom side – especially on tiles – and if building paper is present (and what condition it's in). We'll also let you know if a bird, possum or other creature has made your roof cavity home, which might indicate gaps or openings from the roof.
We've got you covered
General roof issues might include bodge jobs, repairs and fix-ups. And because this part of a building can be hard to access, they can go unnoticed. We have seen 'new' roofs laid over the top of old, rusted corrugated iron, because the original surface has failed – something you'd want to be aware of before you buy. Other things we look for are 'penetrations' – wherever the roof surface has been punctured or penetrated (like where the satellite dish, or solar panels are), to make sure it's been well sealed and weathertight.
Lastly, if our report highlights any roof issues, we recommend getting a roofer to check off if you need any imminent or future repairs. When you invest in a comprehensive property inspection from our friendly, professional team, you can be sure – and not just when it comes to roofs – 'We've got you covered'.
---
https://thepropertyinspectors.co.nz/wp-content/uploads/2022/05/Lichen_and_moss_growth_leading_to_protective_coating_fading-1-scaled.jpg
1440
2560
Verity Craft
http://thepropertyinspectors.co.nz/wp-content/uploads/2016/10/property-inspectors-logo.png
Verity Craft
2022-05-25 13:36:20
2022-05-25 14:21:21
Building Basics – Roofing